A delegation from the surveyors council of Nigeria (SURCON) were received by the President of the Federation, President Mohammadu Buhari who stated that the his government will sustain the use of the Geographic Information Services (GIS) and other technologies that could help farmers increase their productivity.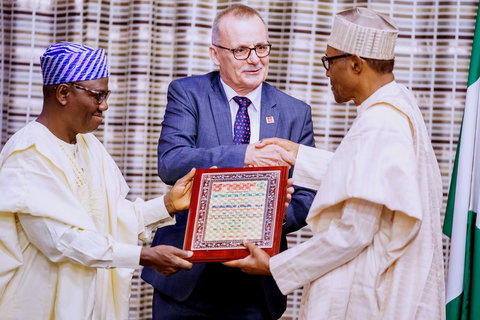 President Buhari assured of his administration's continuity to work with people of the survey and geo-informatics profession while he expresses excitement at how state governments had also adopted the Geographic Information Services at both rural and urban development.
'Our government, in the past five years, has embarked on critical infrastructure development and rehabilitation projects across the country.
"We are designing and building roads, bridges, rail tracks, airports and affordable housing all over the country.
''Our goal is simple, we will develop quality infrastructure that will bring prosperity to millions of Nigerians in both our urban and rural areas.
''To achieve this, we are working with surveyors, engineers and town planners. I am, therefore, confident that the 344 new surveyors inducted into the register of the Surveyors Council of Nigeria will be very busy in the coming years,'' he said.